Integration
Fusion's Systems Integration Consulting helps clients solve business challenges, accelerate business innovation and create opportunities to drive high performance. Our deep industry knowledge and industrialized approach is what makes Fusion a leader in systems integration. Fusion's specialists share a commitment to high performance.
We work with our clients to understand their goals and we have a clear vision of how to seamlessly integrate an accelerated solution to help meet those goals. Whether using emerging technologies, our custom development capability or established "off-the-shelf" packaged software from market leaders such as SAP and Oracle, we solve industry-specific or shared enterprise problems. We help organizations cross into the realm of high performance at an accelerated pace. We understand that any new solution must scale fast and complement existing systems and business processes to deliver value.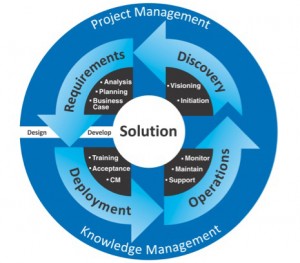 Here are some of the ways we help guide our clients toward sound decisions so they can realize the benefits of their investments while elevating business performance:
Custom Solutions
Combining our assets, skills, alliances and end-to-end delivery, custom development accelerates competitive advantage and high performance.
Emerging Technologies
Embrace emerging technology trends early on to achieve high performance.
Functional Solutions
Drive competitive advantage by using our Systems Integration Consulting functional solutions including Human Capital Management Solutions.
Information Management Services
Fusion's approach to corporate information management services focuses on integrating and managing diverse information assets like ECM and business intelligence capabilities to plan and run a high-performance business.
Open Source Solutions
Fusion harnesses open source-based solution stacks and governance structures to support the achievement of high performance.
Microsoft Solutions
Leverage our expertise in Microsoft technologies for competitive advantage.
Service-Oriented Architecture
Integrate applications and business processes using SOA to enable high performance.
Software as a Service
Fusion can help clients realize the benefits of software as a service.
Contact Us Now