Information Technology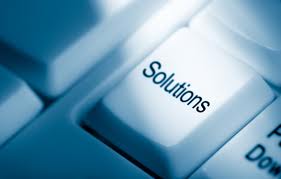 Fusion's Information Technology practice helps clients use data and IT to create competitive advantage and optimize business performance. Our clients are senior business and IT executives who value Fusion's bias-free, independent, and impact-oriented approach. Our clients also value Fusion's recognized strengths in strategy, organization, and operations, as well as the broad strategic lens we apply to IT. We are committed not only to our clients' success but also to advancing the general practice of corporate IT.
Fusion's IT expertise is concentrated in five critical areas:
IT Strategy
We help clients leverage IT in their business-planning and innovation efforts and develop strategic IT architectures and road maps, which provide blueprints for future business processes, applications, data warehouses, development environments, and technology infrastructures—all based on business strategy and requirements. In addition, our approach helps improve business agility, reduces IT and process complexity, and helps organizations better govern their IT investments. Implementing a continuous IT-portfolio-management process guarantees a value-based and business-related IT landscape in the long run.
IT Transformation
We help clients use IT to transform their value propositions, organizations, operations, and financial results. We work with our clients to ensure that IT enables and supports the transformation of their organizations and operations by focusing on post-merger integration, operational transformation, program management office, and project recovery.
IT Sourcing
We develop overall IT and business-process sourcing strategies and help clients select, make agreements with, and manage outsourcing and offshore units more effectively. We are responsible for our clients' sourcing strategy, deal design and implementation, outsourcing management, and strategy for IT outsourcing vendors.
IT Organization
We help clients define the role and mission of their IT organization, design more effective organization structures, improve governance, and identify new people-and talent management practices. We also help new corporate leaders set agendas. We work with our clients to optimize and transform their IT organizations, and we achieve this by focusing on the role of the CIO, business partnerships and governance, high-performance IT organization, and skill and talent management.
IT Performance
Our primary focus is the assessment and sustainable improvement of IT efficiency and effectiveness. To achieve true change and lasting advantage, Fusion offers a comprehensive set of tools and frameworks that focus on IT health check, cost reduction and IT benchmarking, industrialization of IT services, and business continuity and risk management.
Contact Us Now